A Game Changing Mirror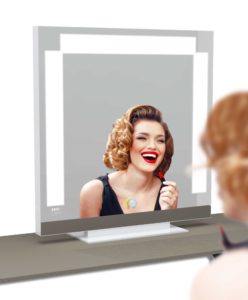 Mirrors and other vanity surfaces have undergone some big changes lately. Using the most advanced glass and LED lighting technology, Diode LED has unveiled the new ENVI-Light™ mirror using araya5 tunable color from Lumenetix®. It's the vanity mirror that is already inspiring style professionals, high-end retailers, and luxury home enthusiast.
The Challenges of Style
The inspiration came from a challenge too many people face. Light is different everywhere you go, and this can often lead to misleading results for environments that render skin-tones and foundations differently like office lighting or store lighting as well as morning to afternoon outdoor lighting. Here's the situation – Hair, make-up, and clothing are styled creatively and thoughtfully in the warm light of your prep area, then you go to your destination and the lighting is cool and your colors don't balance like they did before. What if there was a way to easily preview the results of diverse lighting without leaving the prep area?
Dial in Your Look
Using Araya5 color tuning technology from Lumenetix, ENVI-Light allows the user to "tune in" on the lighting of your destination. The dial features a wide range of color temperatures that reflect a variety of lighting types and are often reflective of various destinations…
Warm Light is often associated with intimate destinations like restaurants, or residential lighting.
Neutral Light is typical of retail or office illumination and most areas that cater to crowds indoors.
Cool Light is found in the bright settings of outdoor sunlight or commercial events.
It is simple to adjust your color setting and have the confidence that you will be in your best light – Warm, Neutral, or Cool… and everywhere in between. Let's look at that situation from before – Hair, make-up, and clothing are styled creatively and thoughtfully. Dial in the colored light of your destination and make sure everything looks right. Now you can show up looking your best.
A New Kind of Mirror – A New Kind of Light
The science behind the ENVI-Light mirror is the patented Araya5 technology. LED lighting is integrated into the mirror without glare to mix the colors found in light and create an amazing range of high-performance lighting that can be tuned to different color temperatures that reflect natural and artificial lighting. The mirror surface is made of STARPHIRE glass for amazing clarity and superb color fidelity. Standard glass becomes greener when glass thickness increases, but with STARPHIRE glass, you don't lose the clarity and will reflect your true colors. ENVI-Light is an amazing evolution for the vanity mirror.
Origins
ENVI-Light is the brainchild of accomplished and award-winning industrial designer, Frank Friedman. He has over 30 years of experience with Fortune 100 companies such as Steelcase, Nike and Apple as well as an accomplished educator on industrial and environmental design all over the world including Domus Academy, Milan, Italy; University of California, Berkeley, California; and Stanford University, Palo Alto, California. Mr. Friedman holds over 40 design and utility patents for products of popular brands such as Peerless Lighting and ​Herman Miller​.
You can find more information on frank design LLC at ​frankdesignstudio.com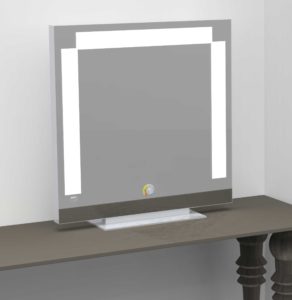 Coming Soon
ENVI-Light finishes production soon and pre-orders already have it landing soon in nationwide retail outlets, High-end homes, Luxury Hotels, and make-up chairs for major Hollywood productions. Diode LED will be selling the mirror through its North American dealer network and you can visit www.DiodeLED.com for more information about the mirror and its technology.
Written by J.B. Lowe of Diode LED