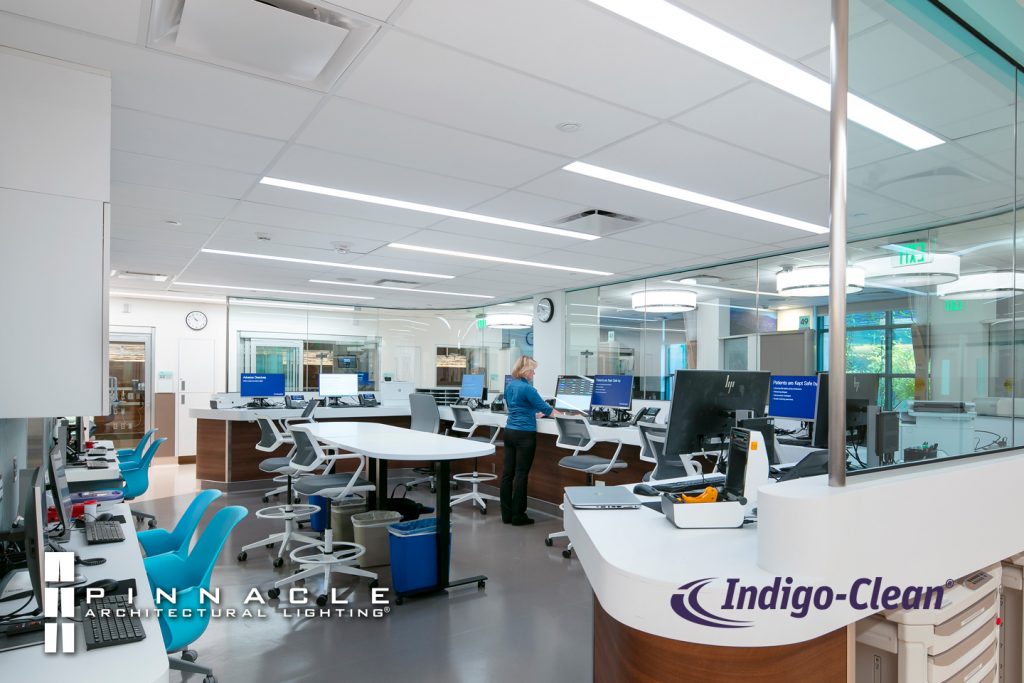 Introducing Pinnacle Architectural Lighting fixtures available with Indigo-Clean technology. Available with single-mode, white ambient light, you can now get the disinfectant properties of Indigo-Clean technology with the Pinnacle fixture aesthetic.
Indigo-Clean has been integrated into Pinnacle Architectural Lighting's luminaires to provide safe, environmental disinfection that is proven by independent laboratory testing to kill harmful bacteria including Staph*, such as MRSA**, in medical facilities and healthcare operations.
The 405nm light targets bacteria and produces intra-cellular Reactive Oxygen Species (ROS).
Similar to bleach, these ROS kill the bacteria and prevent it from re-populating the space.
The 405nm light emitted from Indigo-Clean reflects off walls and surfaces.
Available in the following Pinnacle form factors – specify the look you want in your space:
EDGE Evolution 2, 3, 4 – Recessed, Suspended & Bidirectional
ADEO 1×4, 2×2, 2×4
LUCEN 1×4, 2×2, 2×4
All specification sheets, product information, and price sheets are available on the Pinnacle website. Reach out to your local Pinnacle Agent for more information, questions, or to get your project started.
* per independent lab report #SGS-09S17036476 Contact Pinnacle Lighting for a copy of this report.
** Antimicrobial Activity of a Continuous Visible Light Disinfection System by Rutala, et. al, ID Week 2016.